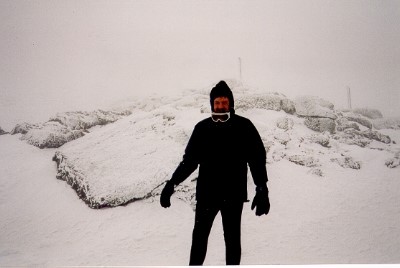 WAYNE NORMAN ATOP MOUNT WASHINGTON (NH)
WILI's Wayne Norman has been to the summit of Mount Washington in New Hampshire five times, including a week as a volunteer in August 1993.  But to get a real taste of "The World's Worst Weather," he spent a weekend at the summit in April 1995, when temperatures reached 15F and winds gusted over 100mph.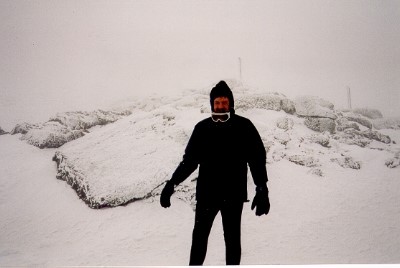 The summit of Mt. Washington (6288′) is the marker in the fog behind Wayne's head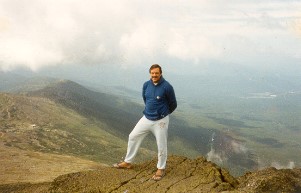 The weather was a little better during Wayne's week at the summit in August 1993.  High temperatures were in the 50's, with dense fog every other day.  Wayne is standing on "Goofer Point," which overlooks the west side of The Mountain towards the Cog Railway station and the Mount Washington Hotel.  Wayne got away with flip flops because he had simply walked over from the bunkhouse.  But he later did hike a mile down to the AMC's "Lake of the Clouds" hut, seen in the left center of this photo, and down the east side to Tuckerman Ravine.  Watching the sun rise over the Atlantic near Portland, Maine, is breathtaking!