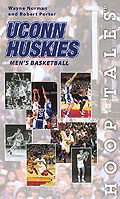 Q & A about Hoop Tales with Wayne and Bob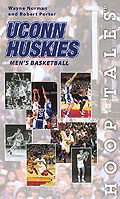 An interview with Wayne Norman and Bob Porter about their book HOOP TALES:  UCONN HUSKIES MEN'S BASKETBALL
QUESTIONS FOR WAYNE:
1) How did you and Bob first meet?
We both worked at UConn student radio station WHUS in the 1960's.  I was more involved in station operations and airshifts while Bob did only sports work.  We were casual friends until 1969-70 when we were both residents of Lancaster House on UConn's West Campus and began to closely follow Dee Rowe's first UConn team.  We collaborated on a 37-minute retrospective after the season ended, which featured analysis and Bob's play-by-play highlights.  Upon completion we walked the tape to Dee Rowe's house, which began a bond with Coach Rowe which continues to this day.  Dee was extremely helpful in coordinating interviews for the book.
2)  Is this book a complete history of UConn Men's Basketball?
No. The format of the book followed a successful formula used by our publisher, Globe-Pequot Press of Guilford, in its "Stadium Stories" books about college and pro football teams.  It is designed to give eleven snapshots in time, building stories around key moments in UConn basketball history.  Each story is designed to stand alone.  We captured what we felt were the most important moments and developed stories around them. 
3)  How did you cover events that happened between the stories?
Most stories/chapters have two one-page "sidebars" which gave us a chance to tell a related story or offer our opinion.  We wrote about George Ehrlich's broadcasting legacy to UConn hoops, UConn's all-time starting five pre-Calhoun, and our top five players of the Calhoun era.  We ranked the top ten UConn wins (hint: the 1999 NCAA Championship game is #1), and the three loudest crowds at the old Field House.
4)  What did you enjoy most about writing the book?
Bob and I combined to do 45 interviews for this project, and I was pleased with the way we let the people involved tell the story.  The four hours I spent with Toby Kimball and his wife Helen in San Diego were a real pleasure.  And while it was great to brush up on games I had broadcast from 1981 to the present, the most enlightening part for me was learning about great UConn players and teams from the era while I was growing up in Hollywood, CA, before I had ever HEARD of UConn.
5)  Will you be writing a similar book on the UConn Women's Basketball program?
No, but Terese Karmel wrote a parallel book on the UConn Women in 2006 .
6)  Where can I buy HOOP TALES:  UCONN HUSKIES MEN'S BASKETBALL?
Most major book stores in Connecticut have the book in stock, and if they don't, they can order it.   The UConn Coop is well-stocked. It's also available at the on-line sites Amazon and Barnes & Noble, and through our publisher's website  http://www.globepequot.com/    Websearch for "Hoop Tales."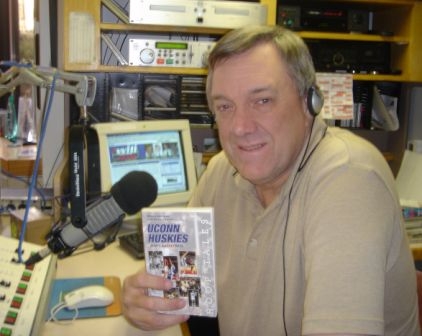 QUESTIONS FOR BOB:
1)What inspired the idea behind the book?
The 2004 NCAA Championship made me personally reflect on close to fifty years of my own memories of UConn basketball, going back to age 9 in 1957.  I felt there was a lot to share from the pre-Jim Calhoun days as well as recalling the early moments of thrills under Coach Calhoun, such as the 1988 NIT title and the "Dream Season" of 1989-90.  I especially felt that little or nothing had been written of UConn's success as a regional power in the 50s, 60s, and 70s – that was a main inspiration.

2)  What was your favorite story from the book?

There were two.  The first was the 3rd story in the book on the Wes Bialosuknia years, one of which overlapped the senior season of UConn great Toby Kimball.  This was actually the first one drafted, and the interviews with so many of that era, including superb former Head Coach Fred Shabel, were fascinating.  The mid-1960s in Shabel's all-too-brief four years as coach produced some thrilling games – both wins and losses.

The 2nd story was the off the court politics behind the forming of the Big East conference.  It is the 5th in the book, titled ENTER INTO THE BRIGHT LIGHTS.  The founder of the Big East conference Dave Gavitt and UConn's athletic director at the time, John Toner, gave superb interviews.  UConn was not a slam dunk to get into the new league, and its entry in the original seven colleges was a huge step – without which most of what followed would not have happened.

3)  What did you learn in researching and writing the book?
Mostly a lot of intriguing small bits that surrounded key points in UConn basketball history, from the team taking the same plane as Princeton with Bill Bradley for the famous NCAA upset win in 1964 in Raleigh, North Carolina, to memories of the West Virginia musket scaring UConn players at the NIT opening game in 1988, to a missed plane connection being a key factor in how UConn managed to recruit Ray Allen.  I knew game results of course, but the memories of behind the scenes that came out in many, many interviews were new to me.
4)  What has been the response to date?
The book is not a long read, and it is all upbeat in tone.  Those who have read it cover to cover, or even just a majority of stories, have been highly complementary in emails or speaking to me.  This is especially true of older people, many of whom can remember games from 30 or 40 or 50 years ago.