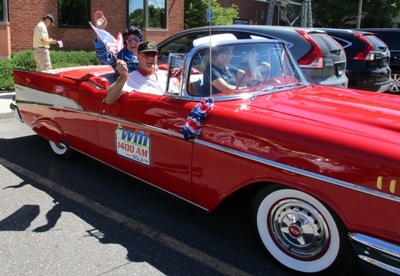 The WILI Boom Box Parade
The 32nd annual WILI July 4th Boom Box Parade ran 93 minutes on a beautiful day.
WILI morning man Wayne Norman is the parade Grand Marshal and began the parade with a salute to WILI's 60th anniversary, which will be October 5, 2017.  He rode in a red 1957 Chevy Bel Air convertible, wearing a blue plaid suit with a 5-foot red, white, and blue tie, a black 1950's wig, ala Elvis, flashing red, white and blue glasses, and red high top sneakers.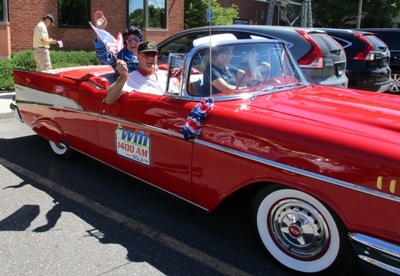 Wayne Norman in the 1957 Chevy Bel Air owned by Ron and Peggy Sue from Preston
The 31st W.I.L.I. "BOOM BOX PARADE" STEPPED OFF  UNDER A SUNNY SKY, LOW  HUMIDITY, AND 82 DEGREES.  THE PARADE LASTED 96 MINUTES–THE LONGEST PARADE SINCE 2010.  PARADE GRAND MARSHAL WAYNE NORMAN STARTED THE PARADE INSIDE A LARGE BOOM BOX, WITH A RADIO TOWER ATOP HIS DRUM MAJOR HAT, AND WORE A FIVE-FOOT RED, WHITE, AND BLUE TIE. WAYNE'S TRUCK WAS POWERED BY GATES G.M.C. BUICK NISSAN. TO SEE FOX61'S VIDEO COVERAGE OF THE PARADE, CLICK HERE.  READ THE NORWICH BULLETIN'S PARADE STORY HERE.  CHECK THIS PAGE LATER FOR MORE PHOTOS.
---
The WILI July 4th "BOOM BOX PARADE"  IS THE LARGEST PARADE OF ITS KIND IN THE WORLD!!
In 1986, no marching band could be found for Windham's Memorial Day Parade. Parade lover Kathy Clark suggested the novel concept that WILI plays marching band music and peple bring radios. Five weeks later, the "Boom Box Parade" concept was born for the Independence Day parade, with WILI playing the marching band music on the air, while thousands march and watch, loudly playing their radios (boom boxes).
The 2010 WILI "Boom Box Parade" was the longest ever (117 minutes).
Anyone can march or enter a float in "Connecticut's Unique People's Parade." The only requirement is to wear some red, white, and blue, and bring a radio tuned to WILI (1400-AM). American flags are optional, but encouraged. There is no "official" theme for the parade.
Formation for the Boom Box Parade starts at Jillson Square on Main Street around 9:00 on July 4th. No pre-registration is necessary. The parade runs seven tenths of a mile west on Main Street to Memorial Park. There are safety guidelines, including no water spraying, no throwing candy, and no reckless operator behavior.
The parades are always led by Grand Marshal Wayne Norman–WILI's morning man since 1970–who always starts the parade in unusual outfits and themes.  In 2014 he rode atop the Willimantic Police Department's new MRAP vehicle. He was a patriotic butterfly in 2013.  In 2012 he cloned a "frog of Windham." He led the 2011 parade wearing the uniform of the 2011 NCAA champion UConn men's basketball team, and walked with the state champion Windham High School girls basketball team.  In 2010, he was in cap and gown, campaigning (unsuccessfully) to be the next UConn president. He was joined in 2009 by his California niece and nephew with a surfer theme. In 2008 he rode in an electric wheelchair. In 2007 he celebrated WILI's 50th anniversary with a 1950's look. In 2006 he was dressed as the "King of Willimantic," sitting atop a huge Boom Box. In 2005 he paddled a kayak with red hair, wearing the uniform of the 2004 World Champion Boston Red Sox. In prior years he has ridden an adult tricycle, a go-cart, a motorcycle, worn a UConn Husky basketball uniform, and in 1998 pulled the world's largest boom box while rollerblading. Norman stresses that everyone bring a Boom Box. "The parade doesn't work if you don't bring a radio," he says. To see some of Wayne's prior outfits, click here.
Past parade marchers have included a "baby boomers unit" (parents pushing children in strollers); a "precision drill team" (marchers holding power drills); skateboard units, along with various decorated floats and marching youth and civic groups. Among the most popular annual entries are the "Traveling Fish Head Club of Northeast Connecticut", "Haggerosa,"–nearly 100 members of Willimantic's Haggerty family, whose entries have spanned three blocks, and creative floats from the Willimantic Brewing Company/Main Street Cafe.
THE 2014 PARADE WENT OFF ON TIME IN A LIGHT RAIN, BUT MANY PEOPLE STILL TURNED OUT AND THE PARADE LASTED 62 MINUTES.  CLICK HERE FOR A PARADE SUMMARY AND PICTURES.  CLICK HERE TO SEE FOX 61's VIDEO REPORT. CLICK HERE TO SEE CHANNEL 30'S VIDEO REPORT.  CLICK HERE TO SEE THE COURANT'S SLIDE SHOW OF PARADE PICTURES.
CLICK HERE TO WATCH A VIDEO OF THE FULL 2014 PARADE.   You can watch the 2013 parade here.
FOR A SUMMARY AND PHOTOS OF THE 2013 WILI BOOM BOX PARADE, CLICK HERE.
For directions to the formation area, click here.
To view photos from prior parades, click here
To view photos of Grand Marshal Wayne Norman's unusual parade outfits, click here
For a listing of the music and artists used for the soundtrack of the WILI Boom Box Parade, click here