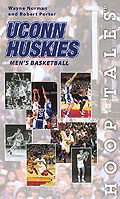 HUSKY SUMMER READING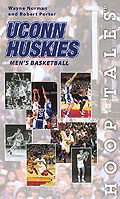 HUSKY SUMMER READING
by Richard Urban, Hartford Magazine, May 2005
The date was February 27, 1954, and for longtime University of Connecticut men's basketball color analyst Wayne Norman, that's when the Huskies arrived as a regional power. The opponent was the Holy Cross team of Togo Palazzi and Tommy Heinsohn. The place was the Worcester Auditorium, an intimate 3000-seat building where the Crusaders had won 47 straight. Both teams had won 22 games entering the showdown. By the time it was over, Coach Hugh Greer's UConn team won 78-77 on the final shot.
Of course, it would be 45 years, hundreds of players and six more coaches before UConn won its first national title. Norman, with longtime friend Robert Porter, chronicles the team's evolution over the years in their new book, HOOP TALES: UConn Huskies Men's Basketball (Globe Pequot Press, $9.95), that's chock-full of interviews and behind-the-scenes anecdotes right up through the 2004 national championship.
They also assembled scores of photos for the 176-page paperback, and it's fun looking at some of the guys who put UConn ball on the map. Plus, they manage to insert interesting side stories such as "The Origins of the Pep Band," their three picks for the loudest Field House crowds, their "All-time Starting Five, Pre Jim Calhoun," and "Top Husky Players under Jim Calhoun." They even stick their necks out with their pick of the team's best regular season win and the team's 10 greatest wins.

HOOP TALES, available at bookstores throughout Connecticut, is good summer reading to stave off basketball withdrawal till fall. — Richard Urban