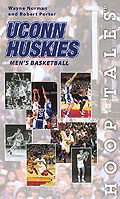 HUSKIES' TALES RELEASED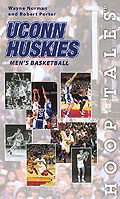 HUSKIES' TALES RELEASED
Waterbury (Ct.) Republican-American, March 20, 2005
   "Hoop Tales: UConn Huskies Men's Basketball" was released this month by Globe Pequot Press.  The authors are Wayne Norman and Robert Porter.  Norman and Porter share their favorite memories of the team–from its first moments of regional prominence against Holy Cross in the 1950's to the 2004 NCAA national championship team.
   Read about Wes Bialosuknia of 1960's fame, who was perhaps the greatest shooter ever to wear a Huskies uniform, and Ray Allen, perhaps the greatest all-around player ever.
   Then there's the Jim Calhoun era, which has produced scores of great players, and two national championships (1999 and 2004).
   Norman has been a UConn basketball and football radio commentator for 25 years.  His broadcasts are currently on WTIC, where he works with play-by-play announcer Joe D'Ambrosio.  Porter is a 1971 graduate of UConn and a lifelong Huskies fan.  While in college, he did play-by-play broadcasts of UConn basketball games for radio station WHUS.  He has also done freelance sports writing for papers in Connecticut