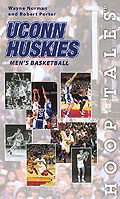 Norman shows his versatility
Norman shows his versatility
UConn broadcster becomes co-author in "Hoop Tales"
By Matt Buckler, Manchester Journal Inquirer
March 26, 2005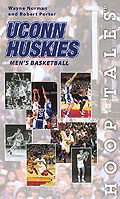 As a radio broadcaster, Wayne Norman is used to painting word pictures.  For his latest project, however, he is using a different kind of easel.
His words have been written down to put together "Hoop Tales: UConn Huskies Men's Basketball," a new book on the history and heritage of UConn men's basketball that is on sale in many book stores.
Norman worked on the project with co-author Robert Porter, a 1971 UConn graduate who is now an international banking consultant.
Together, they have assembled 11 stories on UConn's basketball, starting with the program's first signature win–an upset of Holy Cross in 1954–and ending with the team's second national championship in 2004.
In between, the book is loaded with the exploits of some magical names–Toby Kimball and Ray Allen, Wes Bialosuknia and Richard Hamilton, Worthy Patterson and Emeka Okafor, Dee Rowe and Jim Calhoun.
It should please all generations of UConn fans–the ones who have latched on to the team during the Calhoun glory years along with those who started following the team by sneaking transistor radios into their bedrooms to listen to George Ehrlich and Floyd Richards.
"We're not going to get rich on it, but this was a labor of love," said Norman, who has been UConn's radio analyst since 1981. "Technically speaking, this book isn't the complete history of UConn basketball, but a series of snapshots that have taken place during the last 50 years. People who have seen and followed UConn basketball over the years are able to relive their memories."
Each chapter revolves around a significant event in UConn hoop history. Some took place on the court, such as Dom Perno stealing the ball from Bill Bradley in 1964, or the "Dream Season" in 1990.
Others took place behind the scenes, such as UConn's entry into the Big East Conference in 1980 and the hiring of Calhoun in 1986.
But all are significant stories about the state's #1 sports team.
"One of the best parts of doing the book is that we were able to bring up a lot of the past that took place before the Calhoun era," Norman said. "There was basketball played at Storrs before Tate George and Chris Smith, and this book is able to look back on some pretty good players."
Norman said the book was the brainstorm of Porter, who called UConn games on WHUS-FM while he was a UConn student.
"Bob goes back a lot farther than I do and remembers all those great teams of the '50's and '60's," Norman said. While writing is a big part of Norman's daily radio routine–in addition to his UConn work, he also hosts the state's longest running morning show on WILI 1400-AM in Willimantic–he had never written a book before.
"But this is just such a great subject," Norman said. "Bob would do some writing and I would do some writing, and then we would exchange our work so we could edit each other. Then the editors from Globe-Pequot Press would also do some editing and make some improvements. I think the final product is as good as it gets."
Norman and Porter also did plenty of research. Forty-five people were interviewed for the book. Norman was also able to use quotes from his 20-plus year library of interviews he conducted with players after games.
"I think the best part of the book is that you are able to find out what happened from the people who were there," Norman said. "Rather than have us tell you what happened, we were able to let the players and coaches tell you what happened."
Norman said his favorite interview was with Kimball, a star player from 1963-1965 who went on to play nine years in the NBA. "I talked with him for over four hours at his home in California," Norman said. "He couldn't have been nicer."
They corresponded with other players, such as Bialosuknia, via the mail–both electronic and hand delivered.
"I think Bob did more one-on-one interviews than I did," Norman said. "But I had a lot of interviews that I had done before that we were able to use. And it worked out pretty well. With all the print coverage that UConn received, no one had done a book like this before. When the book came to me in the mail, and I saw my name on the cover, it was an incredibly satisfying moment."
And for UConn fans, its an incredibly satisfying book, written by two people who have been around UConn basketball for years.
While Norman is best known for his UConn broadcasting, especially his 13-year partnership with Joe D'Ambrosio on WTIC-AM 1080, he goes back a lot longer than that.
"There's a collage of pictures in Dee Rowe's office that was taken after the team beat Rhode Island in the famous slowdown game in 1970," said Norman, who was also a UConn student. "One of those pictures is of Bob Staak cutting down the nets. And if you look closely, one of the guys holding Staak up was me."

Norman has been holding up his end of the bargain ever since. "Hoop Tales" proves it. 

"Hoop Tales: UConn Huskies Men's Basketball is now available in book stores.