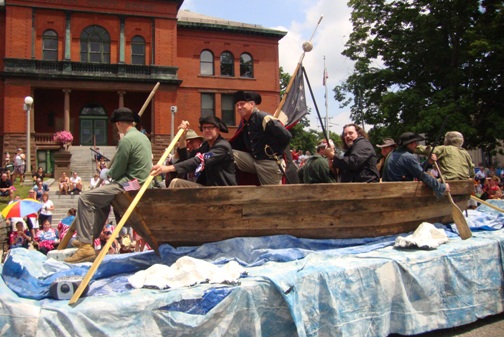 BOOMING DOWN MAIN STREET
Parade participants range from historical to hysterical
by Louisa Owen Sonstroem
Chronicle Staff Writer
July 5, 2012
WILLIMANTIC —  Four years ago, when Mansfield's Steven Sweeney retired from 27 years of service in the Connecticut Air National Guard, he decided to grow his hair long.
He now sports a respectable ponytail, and when one friend saw it a few years ago, he called Sweeney "George" — as in, George Washington.
Sweeney cites that moment as the beginning of his idea to get togethre some friends and make a float recreating Emanuel Leutze's famous painting "Washington Crossing the Delaware," with Sweeney himself playing the general.
Wednesday he and eight friends appeared in Willimantic's 27th annual WILI July 4 Boom Box Parade and, despite sticky heat, they posed in full costume, huddled in a boat they fashioned Saturday from used wood.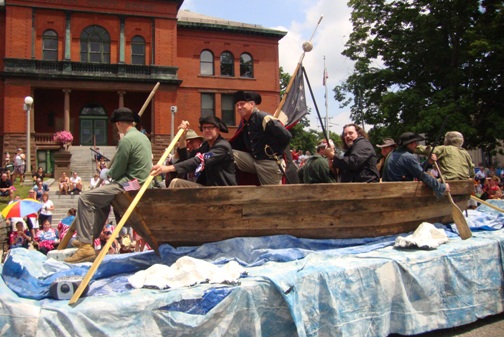 Five of the nine men are veterans, including Scott Burdick of Willimantic, who said the nation's birthday is meaningful "for all of us."
Countless such stories surrounded the floats that processed down Main Street Wednesday as thousands of spectators looked on from the sidewalks.
The parade has received national attention over the years for its unusual approach — rather then using traditional marching bands, the parade features music from the spectators' and marchers' boom boxes, which play marching band music aired on local radio station WILI (1400-AM).
The idea came from the late Kathy Clark, a local resident and regular volunteer, who suggested it in 1986 after a marching band could not be found for the Memorial Day Parade.
Anyone can march in the parade, so alongside those representing local businesses, organizations and political movements were regular people wearing patriotic colors and sharing their love for America and the local community.
Marchers represented everything from the Windham Area Interfaith Ministy to Domino's Pizza, local and state politicians to Eastern Connecticut State University, and the Light On The Hill Christian Fellowship to the Willimantic Brewing Company.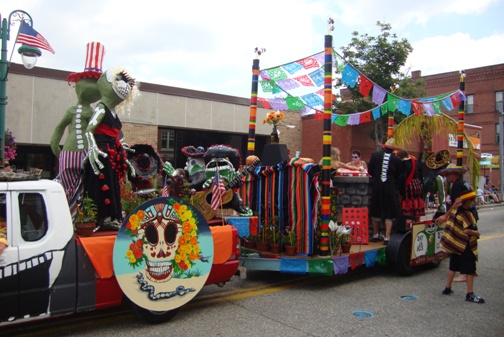 Willimantic Brewing Company
Windham Mayor Ernest Eldridge marched in a Titanic-like float.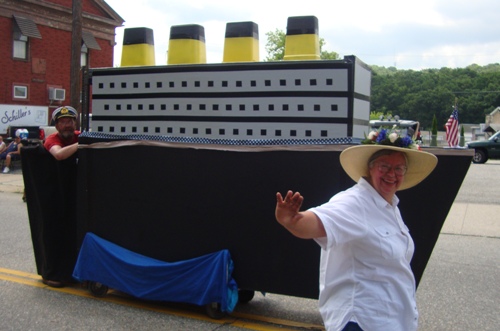 Ernie Eldridge (a/k/a Captain Smith) with his wife Anita Sebastien
Celebrating 100 years in business, locally based Hosmer Mountain Soda Company made a gigantic soda bottle using metal, chicken wire, shrink wrap and paint.
"We've been working on it for four days," said Bill Potvin, one of the owners, who explained that his niece, Chantel Potvin, did most of the work.
As the float proceeded down Main Street, scores of bubbles emerged from the mouth of the bottle.
Jane Scanlon of Chaplin represented Ireland Farm, leading Rainbow, a sleek pony, along the street.  Scanlon's 6-year-old daughter Haley, rode atop the pony.
"I love it.  There's a lot of everything," Scanlon said of the parade, which she has participated in since she was a teenager.
Meanwhile, her daughter has participated all her life, beginning at one month old, when she processed down Main Street in a stroller.
Marchers lined up at Jillson Square before the parade, and among them was John Schwenk of Willimantic, who was dressed in stilts and a carrot costume to represent the Willimantic Food Co-op's carrot logo.
Others from the Co-op pushed grocery carts in a choreographed formation.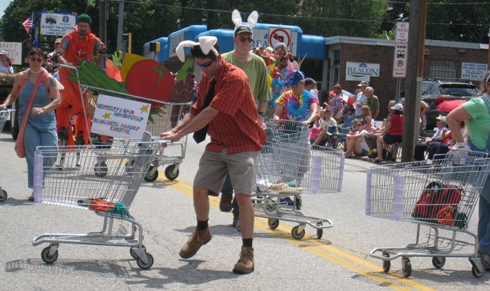 Willimantic Food Co-op
"July 4, of course, is a celebration of our nation," Schwenk said.  "But I want to localize it more and celebrate our community."
The community turned out in great numbers and patriotic colors, lined up along the sidewalks, with bubbles, boom boxes and cameras.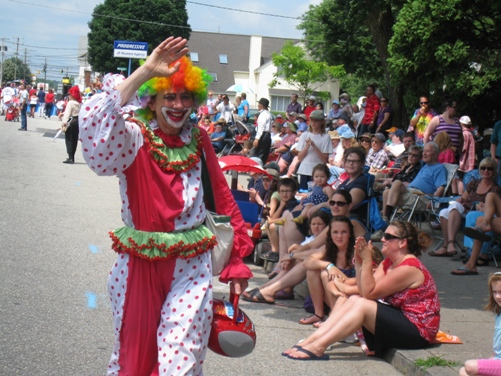 "It's fun," said Charlene DelMastro, who grew up in Willimantic and still lives nearby with husband Ryan DelMastro adn 15-month old daughter, Willow.
"She loves the fire trucks," DelMastro said of her daughter's favorite parade entry.
"(The holiday) is celebrating our independence and our freedom.  it's also a time for families to get together, " DelMastro said.
Willimantic's Alex Olmo was in the crowd with friend Erin Dutton of Willington.  Olmo said he comes to the parade every year.
"You grow up doing it and you always do it," he explained.
Ian Brown of Ashford came to the parade with parents Bruce and Amy Brown.
The 10-year old said his favorite thing about the parade is the candy distributed by the marchers.
Regarding the Boom Box Parade, Bruce Brown said, "there's nothing else like it.  It's the best parade ever."