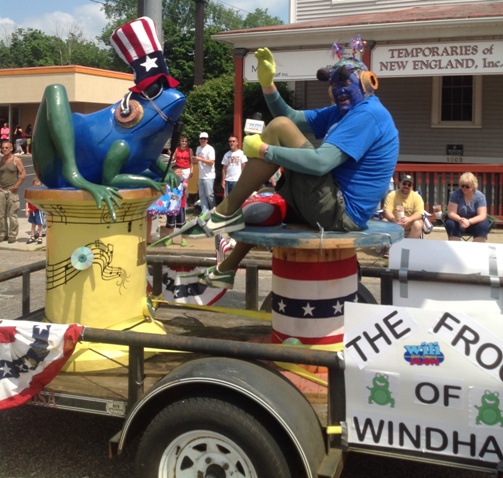 THE 2012 WILI BOOM BOX PARADE
Rain ended at 7:15am on July 4, 2012, leaving a hazy sun over Main Street for the 2012 parade, which lasted 77 minutes.
Parade Grand Marshal WILI's Wayne Norman led the parade with WILI's Frogfest '05 fiberglass/ceramic frog "the Frogcaster."  The two were dressed like identical twins.  The parade featured many new entries, and the old standards like the Willimantic Brewing Company and the Traveling Fish Head Club of Northeast Connecticut.
Read newspaper accounts of the 2012 WILI Boom Box Parade:
Hartford Courant
Norwich Bulletin
And here's how Fox61 television covered the parade–click here.
WILI's Wayne Norman produced this music video of the parade–click here.
Norwich Bulletin photojournalist Aaron Flaum shot this video from the 2012 parade — click here.
See more on the parade at our Facebook page — "WILI Boom Box Parade" including that new music video about the 2012 parade.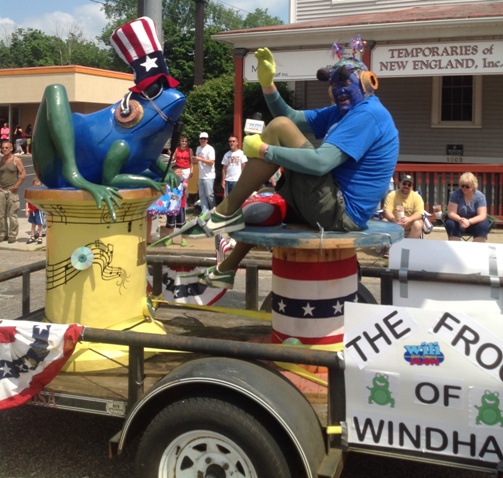 "The Frogs of Windham" — Twin frogs from different mothers.  Wayne is the frog on the right.