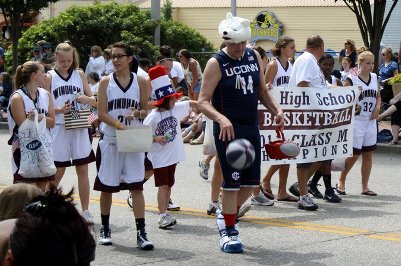 THE 2011 WILI BOOM BOX PARADE
The 26th July 4th WILI Boom Box Parade was another "booming" success, with thousands of marchers and riders on Main Street, and thousands more soaking up the July sunshine, enjoying the creativity of the participants.
Your Grand Marshal took a "championship" theme.  Led by a sign that said "We are the champions," I wore an authentic UConn men's basketball jersey (uniform #14 for 14/WILI), direct from the UConn equipment room, to honor the 2011 NCAA champions.  I had UConn Husky headwear, and oversized, fluffy blue and white UConn slippers. 
I walked with thirteen members of the 2011 Class M State Champion Windham High School girls basketball team–in their game uniforms–with head coach Ken Valliere.
The girls and I were carrying radios and dribbling basketballs.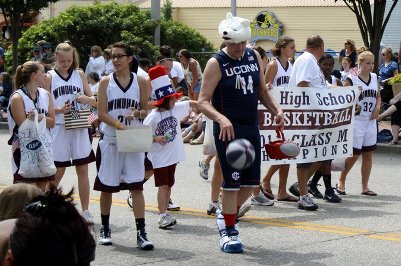 Kristin Benini photo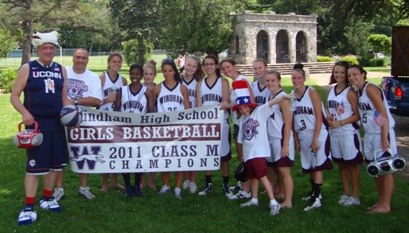 Connecticut TV stations channel 3, 30, and 61 (click to see 61's video) covered the parade
Some of the most creative units were from the Willimantic Brewing Company/Main Street Cafe, the Willimantic Food Coop, and Willimantic Waste.  George Washington and his men rowed thier boat down Main Street again.  And Ken Gardner of Lebanon drove a golf cart filled with hundreds of American flags, which were given out to spectators.  
Several high profile politicians attended the parade, including Connecticut Lt. Governor Nancy Wyman, U. S. Senator Richard Blumenthal (who calls this the best parade in Connecticut), Ct Secretary of State Denise Merrill, State Senate President Don Williams, and Windham State Representative Susan Johnson, who carried the parade banner with her husband Dennis O'Brien.
This year's parade was 80 minutes long, ending at 12:20pm.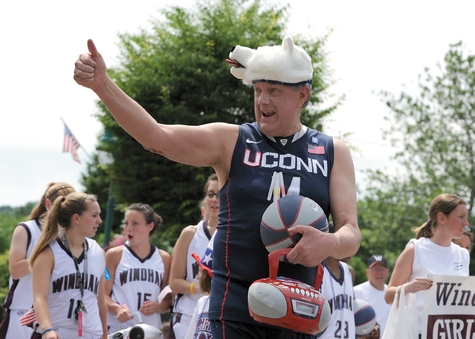 Tim Martin photo–courtesy of the New London Day