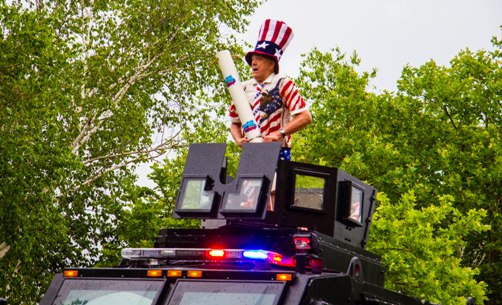 THE 2014 WILI BOOM BOX PARADE
THE 2014 PARADE WENT OFF ON TIME IN A LIGHT RAIN, BUT MANY PEOPLE STILL TURNED OUT AND THE PARADE LASTED 62 MINUTES.  CLICK HERE TO SEE CHANNEL 30'S VIDEO REPORT. CLICK HERE TO READ FOX 61's REPORT. CLICK HERE TO SEE THE COURANT'S SLIDE SHOW OF PARADE PICTURES.
For the first time in 29 years, the WILI July 4th Boom Box Parade stepped off in a light rain.  But many spectators still turned out, and the 62 minute parade was only a few minutes shorter than recent years.  The light rain began at 10:40 a.m., and got steady by the end of the parade.
The parade began with Grand Marshal Wayne Norman of WILI riding atop the Willimantic Police Department's newly acquired MRAP (Mine Resistant Ambush Protected) retrofitted tank that had been used in Iraq and Afghanistan and is now part of the W.P.D.'s "Special Operations Group."  Wayne used a home-made T-shirt cannon to fire t-shirts to the crowd.  He wore his Uncle Sam hat, and a Bill of Rights shirt with a 5-foot long tie.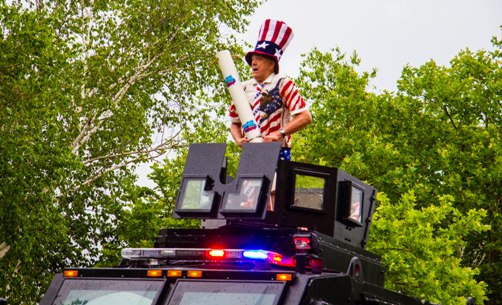 Saving the best for last, the Willimantic Brewing Company had an elaborate frog-themed float, which had an "American Gothic" scene on the rear.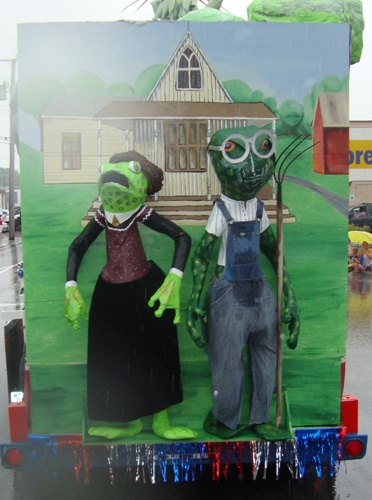 Parade spectators included people from Japan and the Czech Republic and marchers included a group of international students from Brazil who are taking classes at UConn, and a couple from Orlando, whose carry-on was their boom box.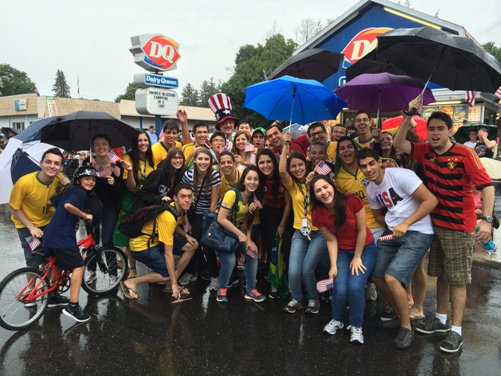 Wayne Norman (middle, rear) with the Brazilian students