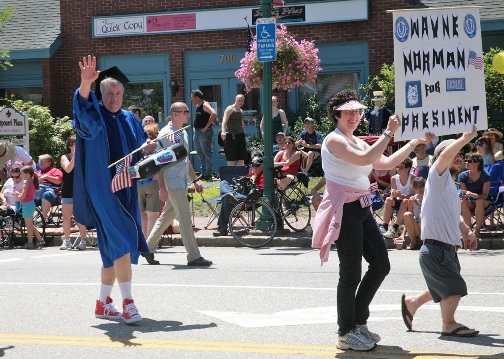 GRAND MARSHAL WAYNE NORMAN RECAPS THE 2010 WILI "BOOM BOX PARADE."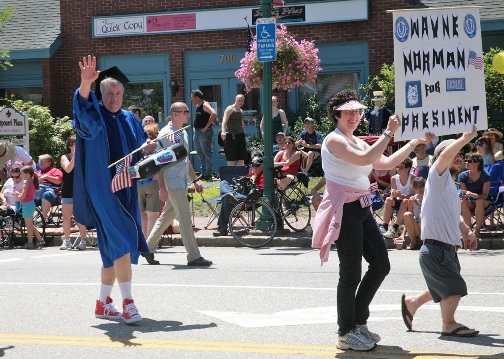 Fran Funk photo
WOW!  What a parade!
It was hot–as many July 4th's are–but that didn't deter thousands of people from watching, or marching, in the 25th annual WILI Boom Box Parade.    The parade lasted an hour and 57 minutes, and was the longest of our 25 parades, topping the 2009 parade by eleven minutes.
Governor Jodi Rell and her husband Lou were among dozens of politicians who marched in the parade.  Most candidates for Governor and U. S. Senate walked in the parade.
As for the Grand Marshal–I donned a blue and white graduation cap and gown.  Red high topped sneakers with white socks completed the patriotic look.  A sign in front of me said "Wayne Norman for UConn President."    When Governor Rell saw this she grinned and said, "I don't think so."   The Rells marched with me at the front of the parade.
WILI had its largest contingent ever, with our traditional giant yellow boom box blasting out the music, and separate entries from our 5pm talk shows "The Computer Club" and "The Responsible Pet Owner."
Two of the most anticipated annual parade entries are the Traveling Fishhead Club of Northeast Connecticut, and the Haggerty clan.
The fish heads were very timely, with three large oil-stained fish, with "Stop off-shore drilling" on the side.  "Haggerosa" had a Viking theme this year, with all the family members wearing Viking horned hats.  Another popular entry came from Willimantic Waste, which had a group of about 20 people pushing the new blue recycling containers, and from time to time, they performed a choreographed dance, spinning around their containers!  And the Willimantic Brewing Company had a Egyptian theme.
But this parade is also driven by youth groups and local organizations.  From cartwheeling gymnasts and martial arts displays, to clubs and businesses, a good time was had by all.
I'll post photos on this website as I get them and as time permits, so check back to get a glimpse into a parade that I am very proud to be a part of.
Attorney General Richard Blumenthal once called it "the best parade in Connecticut."  After this year's parade, he revised that to say, "It's the best parade in America."  I won't argue that.  And of course, it is the largest parade of its kind in the WORLD!