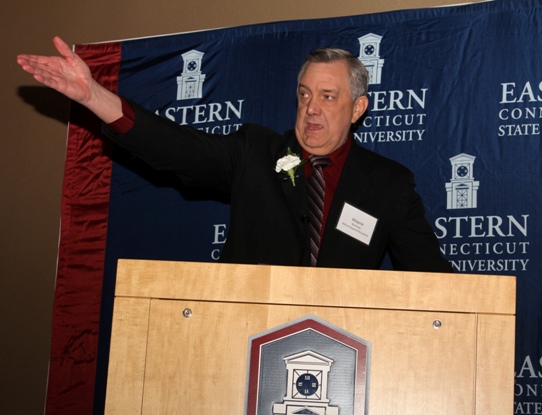 WAYNE NORMAN JOINS THE ECSU ATHLETIC HALL OF FAME
WILI's Wayne Norman was inducted into the Eastern Connecticut State University/E-Club Athletics Hall of Fame on January 8, 2012.  Wayne received the Michael A. Atkind Service award.  The program read:  
Wayne Norman has been a staunch advocate and supporter of Eastern athletics for four decades and we are honored to recognize him with an Atkind Exceptional Service Award.  Norman has broadcast Eastern post-season baseball games for 39 years, has served as emcee of eight Hall of Fame inductions and several baseball championship banquets, and his popular and long-running morning talk show has showcased Eastern faculty, staff, coaches and athletes since the 1970's.  Norman has been a significant force for our athletic program and he has sought out ways of serving our athletes and teams in a generous, sincere, positive and far-reaching fashion.  The Hall of Fame Committee is honored to recognize "Wano" for his on-going commitment to Eastern and the athletic programs.
Dr. Rhona C. Free, another supporter of Eastern athletics, also received the Atkind award.  Other Hall of Fame inductees were Joe Funaro and Paul Martineau (baseball), Amy Keane Steed (soccer), Kathleen Kimball Tredwell (volleyball), Melissa Kowolenko Angle (basketball), and Shannon Sligo (men's lacrosse).