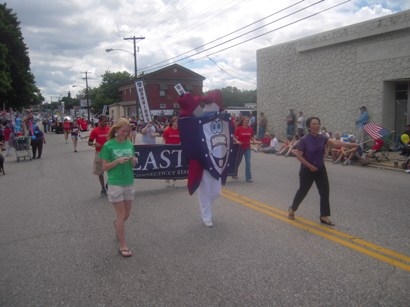 New London Day's preview of the 2010 WILI Boom Box Parade
On June 10, 2010, the New London Day ran this preview of the 2010 WILI "Boom Box Parade" in it's publication "Sound and Country–a guide to the Connecticut/RI shore."  (Note: Parade Magazine will have a feature on the Boom Box Parade coming soon.)
The "People's Parade" — Willimantic's Annual Boom Box Extravaganza
by Katrina T. Gathers
New London Day
Around this time of year, chances are there's a parade stepping off nearly every weekend.
But if you're a do-it-yourselfer when it comes to holiday celebrations, instead of sitting curb side watching the procession roll by, check out the Fourth of July festivities in Willimantic.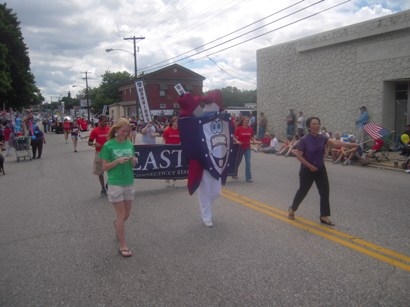 For nearly a quarter century, a local radio station has hosted the Boom Box Parade, and Independence Day celebration that urges viewers to do more than just, well, view.
Dubbed "Connecticut's Unique People's Parade," the only requirement is to red, white, and blue into their attire, and bring a radio tuned to WILI (1400-AM).
"There's always someone doing something funny, different, and over the top," says self-appointed Grand Marshal Wayne Norman, an on-air radio personality.  "In a lot of parades, (regular) people can't march, but we don't keep anybody out."
Known for his wacky get-ups — in 1998 he donned roller blades and attached a bungee cord to himself to pull a gigantic radio — Norman admits the lead-up to the parade's inaugural kickoff was a bit sketchy.
In 1986, parade-lover Kathy Clark asked the station to play marching band tunes while people blasted the music from their radios for Windham's Memorial Day Parade.  It was two days before the holiday and a band couldn't be found.
WILI nixed the idea, saying the lead time for promoting the event was too short.  Two weeks later,, Clark returned to the radio station to pitch the idea for the next national holiday — July 4.
"Two hours before the parade, no one was there," in the muster area, recalls Norman.   "But it lasted 44 minutes, and it was different and funny.  Now there's all kinds of activity.  We knew after that first year we had created a monster."
This year's parade steps off an hour later than normal because the formation area is at the intersection of three churches.  And it's on a Sunday.
"God tends to win these kinds of battles," Norman jokes.
Regardless of what day it falls on, the Boom Box Parade is always held on July 4.  And participants know to come big or don't come at all.
Norman says one local family plans their annual reunion around the parade.  The family has as many as 100 relatives walking in the procession, divvied up among several units.
And though the parade is still a month away, teh 40-year radio veteran is always on the lookout for the next great costume idea. 
"I feel if I raise the bar, people will follow," he explains.  "I think it just speaks to the independent nature of this Independence Day parade."
IF YOU GO:
WHAT:  WILI Boom Box Parade
WHERE: Jillson Square, Downtown Willimantic
WHEN:  Sunday, July 4
TIME:  Noon
ADMISSION:  Free