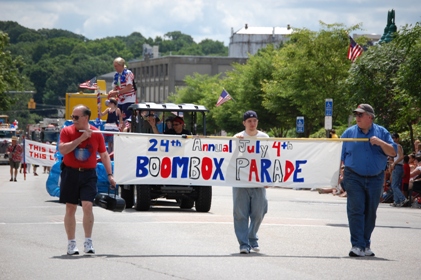 THE 2009 WILI BOOM BOX PARADE
THE 2009 WILI BOOM BOX PARADE
by Wayne Norman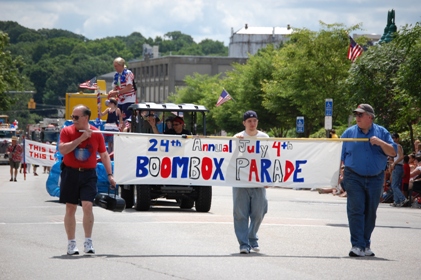 After one of the wettest Junes in Connecticut, thousands of people celebrated the return of sunshine by lining the streets of Romantic Willimantic for the largest and longest Boom Box parade ever.  The 2009 parade also attracted the largest crowd of spectators of the 24 years.
The parade lasted an hour and 46 minutes and featured the first parade appearance by Grand Marshal Wayne Norman's 6-year old niece Cameron and 4 year old nephew Cole from San Diego.   Being Californians (Wayne was born in Hollywood), they had a surfer look, with all three on surfboards on a float created by Windham selectman Ernie Eldridge.   Wayne had blonde–surfer-type–hair, and of course, carried a boom box tuned to WILI's parade music.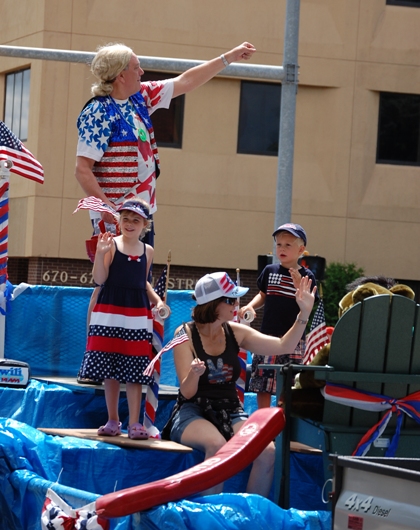 .
Wayne Norman (rear), Cameron (L), Cole (R) and their mother Kimberly in front

Other popular parade entries included the Willimantic Brewing Company's Star Wars themed float.  The aliens behind the bar passed out free green drinks to spectators.


About 50 members of the Haggerty family combined to put a series of floats and trucks in the parade, including the "Haggerosa Masquerde."  ECSU president Elsa Nunez led Eastern's contingent, which showed off the school's new logo and mascot.  And one of the most unusual parade entries featured the Grim Reaper, a hearse covered with spider webs and skulls, followed by a coffin.  For windshield wipers, the hearse had arms carrying American flags.


Many high profile politicians marched in the parade:  Congressman Joe Courtney, Connecticut Attorney General Richard Blumenthal, State Representatives Susan Johnson and Denise Merrill, and Windham First Selectman Jean deSmet.
As usual the parade wasn't limited to two-legged creatures.  Dogs, horses, a pig, and even a gorilla marched this year.

And in a new parade tradition which started in 2007, Wayne Norman narrated a virtual fireworks display and a virtual flyover by an A-10 Warthog just minutes before the start of the parade.  Boston Red Sox public address announcer Carl Beane then introduced the beginning of the parade.
To see more photos of the 2009 parade, click here, here, here, here and here.
To read the parade summary in the Willimantic Chronicle, click here.
To see a Norwich Bulletin video of the parade, click here, and to see a gallery of Norwich Bulletin photos of the parade, click here.
To read the Norwich Bulletin parade story,
click hereTo see parade photos from the Hartford Courant, click here.
Fox61 television covered the parade on video and posted a gallery of 24 photos