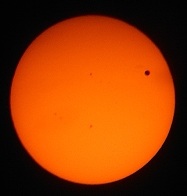 WILI HOT LINKS
WILI FIRST WENT ON THE AIR ON OCTOBER 5, 1957.  CLICK HERE TO READ ABOUT WILI'S GALA 50th ANNIVERSARY CELEBRATION IN 2007
SEE AN AMAZING TIME-LAPSE VIDEO FROM THE BLIZZARD OF 2013–CLICK HERE.
See the rare "Transit of Venus" as seen from Eastern Connecticut State College on June 5, 2012–click here.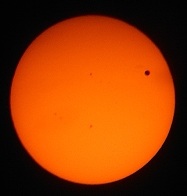 Venus in upper right
 SEE WILI'S PHOTOS OF THE NOVEMBER 9, 2010 TRAIN DERAILMENT IN WILLIMANTIC–CLICK HERE.
 WILI's WAYNE NORMAN VISITED GROUND ZERO FIVE DAYS AFTER THE 9/11 ATTACKS.  TO READ HIS RECAP AND SEE HIS PHOTOS, CLICK HERE.
 WAYNE NORMAN LANDED A BIG FISH…CLICK HERE FOR DETAILS
WAYNE NORMAN KAYAKED RIVERFEST 2009 IN WILLIMANTIC. TO SEE PICTURES CLICK HERE.
MOHEGAN SUN HELPED WILI CELEBRATE NATIONAL RADIO DAY ON AUGUST 20, 2010. FOR DETAILS AND PICTURES, CLICK HERE.
WHAT CAUSED THE INTERNATIONAL BANKING CRISIS IN 2008? A BANKING EXPERT GIVE HIS TAKE: CLICK HERE
SHABOO OPENED IN OCTOBER 1971.  TO SEE PHOTOS AND A LIST OF ARTISTS WHO PLAYED AT THE LEGENDARY LOCAL NIGHTCLUB, CLICK HERE.
SEE PHOTOS FROM THE 2006 WINDHAM SNOW BALL FORMAL DANCE AT WINDHAM TOWN HALL:  CLICK HERE.
SEE AMAZING PHOTOS OF THE MARCH 2009 ERUPTION OF ALASKA'S MOUNT REDOUBT VOLCANO:  CLICK HERE.