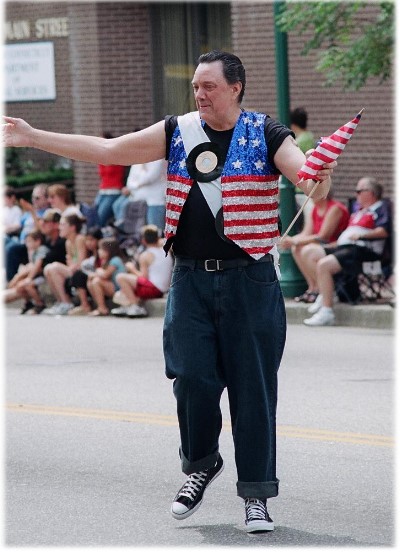 ANNUAL PARADE GATHERS LARGE, FESTIVE CROWD
ANNUAL PARADE GATHERS LARGE, FESTIVE CROWD
by Jessica Charron, (Willimantic) Chronicle correspondent
July 5, 2007
WILLIMANTIC–As expected, the sidewalks of Willimantic were packed with people Wednesday for the 22nd annual Fourth of July Boom Box Parade.
With the rain holding off until the late afternoon, the day's events started with a moment of silence honoring the memory of the late Kathleen Clark, who first suggested the concept of a Boom Box Parade in 1986.
"I would like to remember a woman without whome there would be no Boom Box Parade," said parade grand marshal and WILI radio personality Wayne Norman.
After that, the parade kicked into full gear with its usual array of eclectic, humorous and political displays.
Norman, who usually wears some sort of wacky costume, sported a black t-shirt and [cuffed] jeans, an American flag glitter vest and a sash.  Old records were also attached to his outfit to complete the look.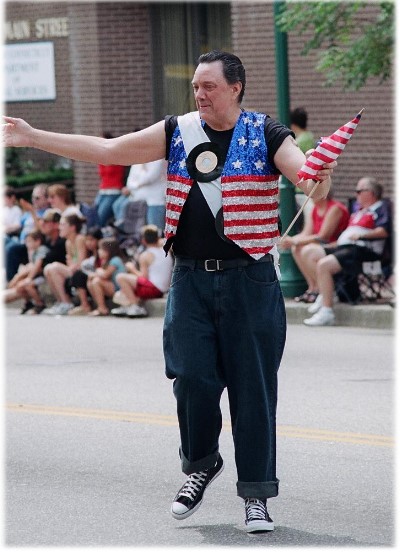 His 1950's get-up, straight from "Grease," was done to commemorate the 50th anniversary of WILI.
Other parade marchers sported costumes such as foxes,, cows, frogs pedaling bikes, robots and more.
One couple even pushed their German shepherd and poodle along the parade route in baby carriages while the dogs wore baby bonnets, dresses and faux arms that appeared to be waving American flags.
The parade began at Jillson Square, proceeded west on Main Street and ended seven-tenths of a mile away at Memorial Park.
The rules are simple:  Anyone can march in the parade as long as they are wearing red, white, and blue.  Visitors are asked to bring a boom box or radio tuned into WILI for pre-recorded patriotic music, a necessity given the absence of any bands.
For many, even thought they moved away to other towns, the Boom Box Parade is where they want to be on the Fourth of July, making the annual event a de facto Old Home Day.
"I'm here because this is my hometown and I wanted to show my daughters the parade I grew up with," said Eric Byrne, 38, of Marlborough.
The parade even has drawn repeat visitors from as far away as the Garden State.
"Romantic Willimantic is my home town. So we come back to see the Boom Box Parade.  We think it's wonderful.  We have friends here from New Jersey that came up last year and wanted to come up this year  to see it," said Pete Burtolan, 69, of South Windsor.
Given the thousands clogging Main Street, the parade is a popular stop for local, state, and national politicians.
Those marching this year included Gov. M. Jodi Rell, who stopped along the parade route to pose with two little girls who wore Boston Red Sox caps, U. S. Rep. Joe Courtney, D-2nd, who shook hands with those lining the street, and Windham First Selectman Michael Paulhus.
The event also featured local activist and frequent political candidate Jean de Smet, who is well known for her work with the 3rd Thursday Streetfest.
Meanwhile, different groups and organizations used the Boom Box Parade to help get their messages out.
"I think what's interesting is just the total diversity of the groups that are marching in this thing.  Everybody's got their own little issues and, you know what, it's wonderful.  This is real classic small town America," said Burtolan.
With all the fun that went on Wednesday, the reason behind it all was not forgotten, and that reason was a little different for everyone.
Ongoing military operations in Iraq and Afghanistan were on everybody's minds.  Some reflected on their service to the country.
"I did a tour of duty in the Air Force from 1962-1965.  My next-door neighbor was shot down twice.  These kind of things are important," said Burtolan.
"Today with the war and everything, I don't know," said Byrne.  "I don't think it means the same thing it used to."