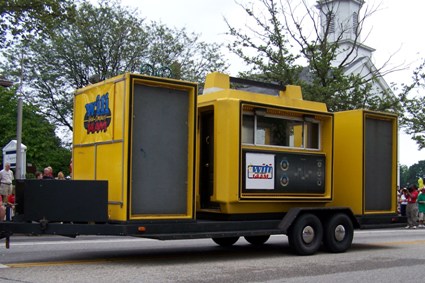 Photos from the 2008 WILI Boom Box Parade
THE 2008 WILI BOOM BOX PARADE HAD A TERRIFIC TURNOUT, GIVEN THE FACT THAT IT WAS RAINING AN HOUR BEFORE START TIME.  BUT IT WAS ONE OF OUR BEST ATTENDED PARADES EVER, AND THE PARADE LASTED 96 MINUTES.
GRAND MARSHAL WAYNE NORMAN HAD A "GEEZER" LOOK, RIDING IN A MOTORIZED WHEELCHAIR, WITH DYED GREY HAIR, GRANNY GLASSES, A BLUE CANE, BLUE SLIPPERS, AND OF COURSE A RED BOOM BOX BLASTING THE PARADE SOUNDTRACK.
UNIVERSITY OF CONNECTICUT PRESIDENT MICHAEL HOGAN BROUGHT A LARGE CONTINGENT OF UCONN FANS, INCLUDING JONATHAN THE HUSKY, AND PRESIDENT ELSA NUNEZ REPRESENTED E.C.S.U.   CONNECTICUT ATTORNEY GENERAL RICHARD BLUMENTHAL CALLED THE BOOM BOX PARADE, "THE BEST PARADE IN CONNECTICUT."
TO READ THE WILLIMANTIC CHRONICLE'S ACCOUNT OF THE 2008 WILI BOOM BOX PARADE, CLICK HERE.
TO READ THE NORWICH BULLETIN'S ACCOUNT OF THE 2008 WILI BOOM BOX PARADE, AND SEE THEIR PHOTO ALBUM, CLICK HERE.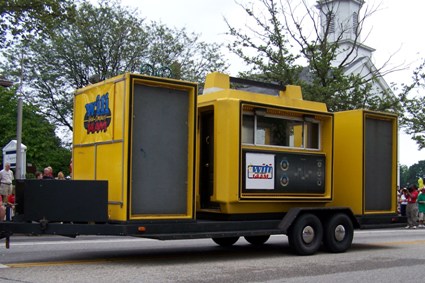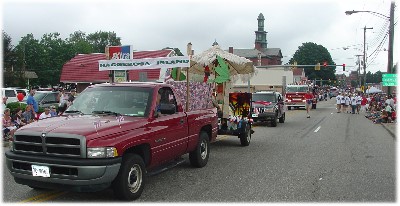 FOR MORE PHOTOS OF THE 2008 WILI BOOM BOX PARADE, 
CLICK HERE