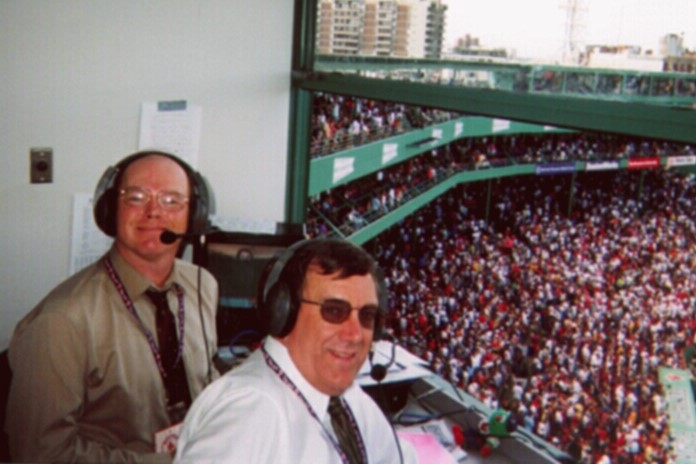 FENWAY FANTASY COMES TRUE FOR WILI DUO
FENWAY FANTASY COMES TRUE FOR WILI DUO
By Mike Sypher
Chronicle Sports Editor
August 9, 2003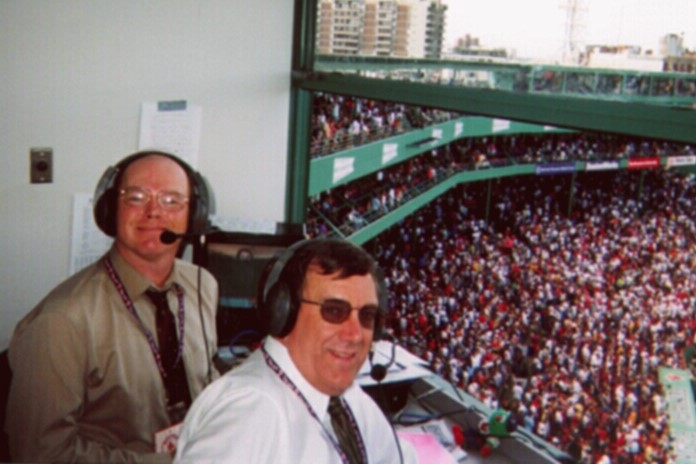 WILLIMANTIC — John Henry and Tom Werner, the newest principal owners of the Boston Red Sox, have been lauded in recent months for their efforts at turning Fenway Park into a fan-friendly environment.
Coupled with team president Larry Lucchino's shrewd business dealings and wunderkind general manager Theo Epstein's wiser-than-his-years approach, the Bosox have tickled the collective fancy of the long-suffering fandom residing in Red Sox Nation.
Thanks to the breath of fresh air that's blowing through the Fens these days, talk of The Curse is taking a back seat to talk of a world championship banner flying above the Green Monster come October.
That fresh air will blow through Booth A in the broadcast area behind home plate Sunday afternoon when WILI 1400-AM's own Wayne Norman and John Tuite settle in to call the 2:05 p.m. American League East game between the Red Sox and Baltimore Orioles live from Fenway Park.
For Norman, WILI's legendary morning personality, and Tuite, a veteran newscaster at the station, the assignment is a dream come true.  Long-suffering Red Sox fans, the pair will provide WILI listeners with play-by-play reporting of the day's action packaged between the Red Sox Radio Network's normal pre- and post-game shows.
The rest of the Network's 60-plus affiliates will hear, as usual, Red Sox announcers Joe Castiglione and Jerry Trupiano but fans living in the Thread City area will be treated to Wan-O and Tuite's analysis and witty repartee.
"Thee current Red Sox ownership has been more fan-friendly, and maybe it extends to being a little more affiliate-friendly, too," Norman said recently while riding up to a University of Connecticut football media day at Rentschler field in East Hartford.  "A lot of people have worked very hard on this and the broadcast is a product of all that work."
That work began weeks ago when WILI vice president, Colin Rice, attended a broadcast affiliates' day at Fenway Park.  Lucchino stood up and addressed the affiliate representatives during lunch, stating that the Red Sox — their Red Sox — were there to help.
An idea began to percolate…..
"Chuck Steedman, a former sports information guy at UConn, was instrumental in getting this off the ground," said Norman, who has worked at WILI since 1970.
Steedman, now an executive handling Red Sox business affairs, was receptive to the idea of WILI's announcers working a game.
"Colin did a great job setting this up and it's a great promotion for WILI," said Norman, who has provided color analysis for nearly 1,000 UConn basketball and football games, including ECSU baseball's four runs to NCAA Division III national titles.
Norman will also team up with Joe D'Ambrosio when they start their 12th full season together on football flagship station WTIC 1080-AM as the UConn Huskies open the grid season on August 30 against Indiana at Rentschler field.
"I have no idea where we're going when we get up there but, once John and I settle in, I'm sure the adrenaline will be flowing and the reality of it all will hit home," said Norman.  "It's a special opportunity and I'm very excited about it."
Tuite has enjoyed more than his own fair share of big time while working for WILI over the past 20 years.  The 1975 E.O. Smith graduate has followed UConn Soccer for decades and has broadcast at least 10 Final fours in Husky men's and woman's soccer, women's hoop and field hockey while also manning the microphone for WHUS 91.7-FM.
"It's going to be a great day for both of us and it's a great chance to do something that the two of us only dreamed about doing," said Tuite.  "We'll give it a local spin and try to personalize it.  I'm sure we're going to be telling some personal stories and localize it, but not to the point of distraction."
"I sure hope we have a monitor, though.  We're going to be pretty high up and a pop-up to short might look like it's going out because of the depth perception."
Norman will wrap up a week-long vacation on Sunday morning when he brings his sister, brother-in-law and 6-month-old niece to Logan International Airport after wiling away seven idyllic days in Newport, Rhode Island, Lake Morey in Vermont and a brief visit to New Hampshire.
Rice an his youngest son Reggie, Tuite, and WILI afternoon man Shawn Higgins will meet up with Norman at Logan and the locals will caravan back to Fenway Park, arriving in Booth A about three hours before game-time.
Hopefully, Jeff Suppan, Boston's newly acquired right-hander, will pitch a bit better than he did in his return to the Fens Tuesday night against the Anaheim angels.
Hopefully, the weather forecasters slip up a bit and the skies on Sunday rain down sunshine instead of showers.
Never fear.  Tuite knows that even a weather delay could hardly dampen the WILI duo's spirit.
"If you had to pick anyone who you'd like to talk you through a rain delay, it's Wan-O," said Tuite.  "We're going to give it our best shot and I'm sure it's going to be something we'll remember for a long, long time."