WAYNE NORMAN TOOK A GROUP OF WILI WINNERS TO BLOCK ISLAND ON SEPTEMBER 16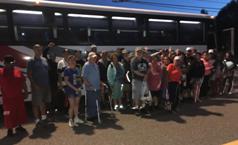 ---

It was the second hottest parade in the 33 years of the WILI July 4 Boom Box Parade (89F), but that didn't stop thousands of people from coming to Romantic Willimantic for our annual display of independence. The parade lasted 89 minutes. It began with Grand Marshal Wayne Norman and his WILI News Director Mike Morrissette riding in a golf cart wearing tie-died Shaboo shirts, dressed as aging hippie rockers as WILI welcomed the new Shaboo Stage, and the parade ended with David Foster and the Shaboo All-Stars playing blues. Norman had a big, bushy curly Afro wig, a 5-foot long red, white, and blue tie, and was playing (air) guitar, while Morrissette drove the golf cart while playing drums. Other parade favorites included WilliBrew's "Under the WB Sea" float, and the Traveling Fish Head Club of Northeast Connecticut.  To see parade pictures, Facebook WILI Boom Box Parade.
---
WILI's WAYNE NORMAN WAS INDUCTED INTO THE E.C.S.U. E-CLUB ATHLETIC HALL OF FAME, RECEIVING THE MICHAEL ATKIND DISTINGUISHED SERVICE AWARD.  FOR PICTURES AND MORE INFORMATION, CLICK HERE.
---
CONNECTICUT GOVERNOR JODI RELL ISSUED A PROCLAMATION DECLARING AUGUST 25, 2010 AS "WAYNE NORMAN DAY IN CONNECTICUT."
TO READ THE PROCLAMATION, 
CLICK HERE
.   AUGUST 24th, 2010 WAS THE 40th ANNIVERSARY OF WAYNE NORMAN'S FIRST DAY ON THE AIR AT W.I.L.I. 
CLICK HERE
 TO SEE PHOTOS.  
CLICK HERE
 TO HEAR THE ANNOUNCEMENT.  TO READ A STORY FROM HIS 25TH ANNIVERSARY, 
CLICK HERE
.